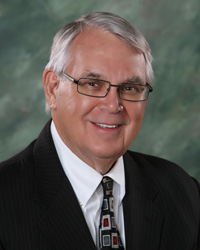 John R. Hillis, Attorney
John was born in 1942 in Logansport, Indiana and graduated from Logansport High School in 1960. John went on to attend Miami University in Oxford, Ohio and earned his Bachelor of Science Degree in 1964. Thereafter, John attended Indiana University Law School in Bloomington, IN where he earned his J.D. Degree in 1967. John then served his country during the Vietnam War working intelligence missions for the U.S. Army. In 1971, John returned to his birthplace and took up practice at the law firm of Hillis & Hillis where he succeeded his late grandfather R.C. Hillis and practiced with his father J.T. Hillis. John has practiced law for over 50 years in the same capacity.
Practice Areas:
John's practice focuses primarily on Estates, Wills, Trusts, Corporate Law, Municipal Law, Banking Law and Real Estate Law. John has represented clients in many counties throughout the state, over the past 50 years. John has been admitted to practice before the U.S. Supreme Court, U.S. Court of Appeals, Seventh Circuit: U.S. District Court, Northern and Southern Districts of Indiana.
Community Involvement:
Over the course of his 50 year career, John has been active in many community related projects and organizations. This includes his service as past President and Campaign Chairman of the Cass County United Way, President of Woodlawn Center (Peak Community Services) and President of Four County Counseling Center.
Translation Services
Available Upon Request
Servicios de traducción disponibles a pedido
(574) 722- 4560
Lawyers serving clients in Logansport, Lafayette, Fort Wayne, Wabash, Delphi, Huntington, Peru, Winamac, Rochester, Royal Center, Walton, Galveston, Bunker Hill, Monticello, Kokomo, Rensselaer, Crown Point, Gary, Merrilville, Cass County, Indiana, Carroll County, Fulton County, Howard County, Miami County, Pulaski County, White County, IN